Half an afternoon's work by one picker@Noëlla Morantin in Pouillé
(

In a spirit of green journalism I will be posting the three articles on the 2012 Loire vintage that were first published on Les 5 du Vin. Week one was posted on 25th September

.)
From driving around a few parts of the region it is already clear that there will be very wide variations between the different parts of the region. The widest variations look to be in terms of quantity. In parts of the Cher Valley, for example around Pouillé it really is a question of playing hunt the bunch of grapes following an acculmulation of spring frost, poor flowering and mildew. To find two good bunches of Sauvignon Blanc per vine is noteworthy! In contrast there are some other parts of the Cher where quantities are reported to be much closer to normal.
Since it is such a small crop the grapes have ripened quickly – they already have 13%-13.5% potential alcohol, although the acidity levels are still quite high – between 5.5 and 6.5. Ironically after all the rain between April and July producers could have done with a little rain just to help the grapes swell and ripen plus lower the acdity. Since July it has been amazingly dry with only 11mm being recorded in Tours from the beginning of August through to 20th September. Those who waited did some rain on Friday afternoon and some more over the last couple of days with the wind and weather now coming from the west instead of the east. Give the malign conditions of 2012 this change may signal a prolonged downpour – let's hope not!
Pinot Gris@Le Vau, Evres-sur-Indre
The Noble Joué vineyards (a rosé made from three Pinots: Gris, Meunier, Noir) were reported to have been badly hit by the frost of April 16th-17th. On Saturday, however, we had a look at the vines around Esvres-sur-Indre, where the majority of the vineyards for this small appellation are, and although it clearly isn't a bumper harvest and I can't claim to have looked at all the vineyards, the crop here
is
considerably more plentiful than further east. Variable ripeness, due to the extended flowering, is a major concern and this was evident here.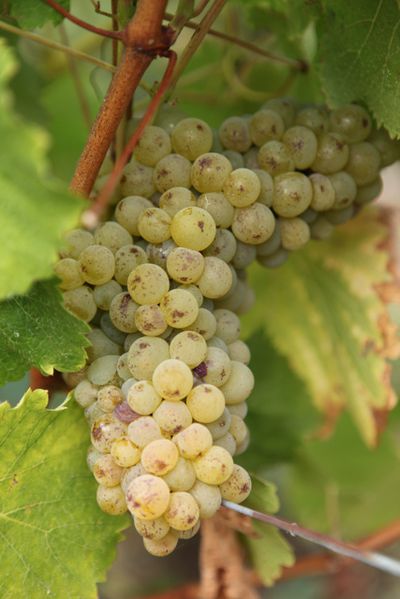 Grapes@Château de l'Aulée
As we were on our way to Café de la Promenade (David Cobbold's pied à terroir in the Loire) in Bourgueil for the Bourgueillothérapie, we also had a quick look at the Chenin@Château de l'Aulée in Azay-le-Rideau where they estimate a loss of 20% in overall production due to the adverse conditions.
The vines at Bourgueil and Saint-Nicolas-de-Bourgueil look in good shape. Yes, the crop is probably down a little on normal but this should produce more concentrated wines. They had a little rain on Friday – 8mm according to Jean-Claude Mabileau (Vignoble de la Jarnoterie). Jean-Claude would be happy with another 12mm.
2012 Cabernet Franc@La Minière, Ingrandes-en-Touraine (Bourgueil – above and below)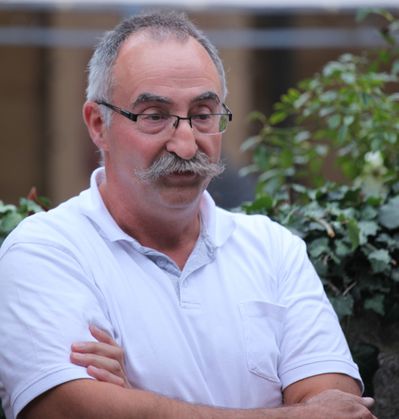 Jean-François Mabileau
Returning from Bourgueil today we drove around through the gravel vineyards of Cravant-les-Coteaux and Panzoult. Again, although the crop is reduced in places the grapes are plentiful in comparison to examples in the Cher Valley to the east of Tours. Again this is from a quick impression driving around with a few stops to walk into the vines. Harvesting Cabernet Franc in Bourgueil, Chinon and Saint-Nicolas-de-Bourgueil for the reds is unlikely to start much before the 8th October with most producers, who were involved in the 2012
Bourgueillothérapie, saying they would start between the 8th and 15th October – depending, of course, on the weather.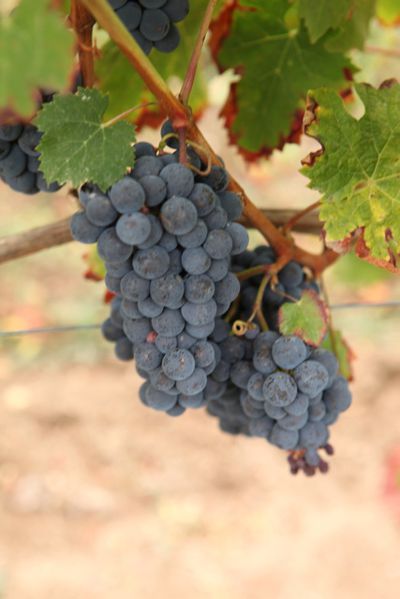 2012 bunch of Cabernet Franc in Chinon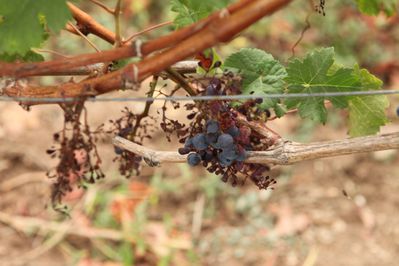 Chinon: just a few grapes left but this was a rare sight
Tomorrow we are off to Muscadet where picking should now be fully
underway.